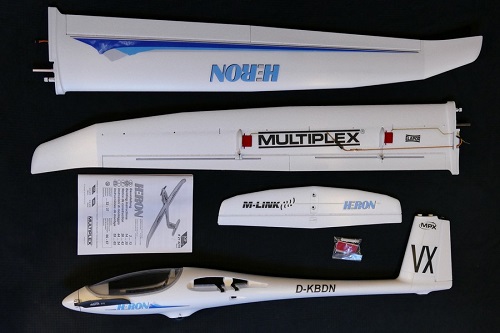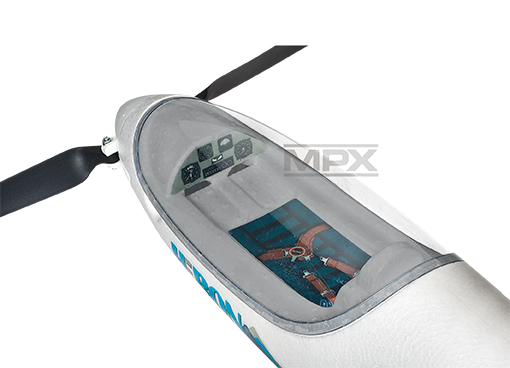 Multiplex Heron 2400mm WS (Receiver Ready)
The Multiplex Heron is a high-performance electric glider with T-tail and high-efficiency four-flap wing. With its elegant wings and flowing fuselage lines it responds superbly to thermals.The extravagant four-flap wing with its extremely stiff CFRP/Aluminum tubular spar technology sets entirely new standards in the 2.40 metre span class. The HERON provides a maximum of flying pleasure, whether you are a weekend pilot or an 'old hand'. You can enjoy floating through the air for long periods, as well as lively aerobatics - all with elegance and precision.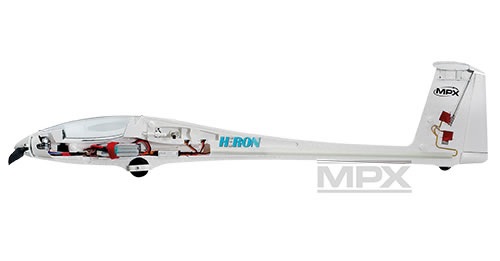 Features
Four-flap wing for high performance in the air (camber-changing flaps) and accurate spot-landings (butterfly / crow)
Broad performance spectrum: high-speed, aerobatics, thermalling
Innovative CFRP / ALUMINIUM tubular spar technology for strong, stiff wings
GRP "M-SPACE technology" for a rigid fuselage
Clear canopy with highly detailed cockpit
Detachable wings and tailplane for ease of transport
Kit Contents
ELAPOR® model, 100% factory-assembled, including PERMAX BL-O 3516-0850 motor, MULTIcont BL 40 S-BEC speed controller, assembled 12 x 6" folding propeller, two Nano-S servos, four Tiny-S servos, decals applied, comprehensive instructions.
Included:
Motor: PERMAX Brushless-O 3516-0850
ESC: MULITIcont Brushless 40 S-BEC
Servos: 4x Tiny-S, 2x Nano-S
Propeller: 12x6"
Spinner: included
Required to complete the glider
LiPo 2200 3S Battery
LiPo Battery Charger
6-7 Channel Transmitter + Receiver

Specification

| | |
| --- | --- |
| Wingspan: | 2400mm |
| Overall length: | 1100 mm |
| All-up weight: | approx. 1500 g |
| Wing Loading: | 33-37.5 g/sg.dm |
| Wing Area: | 41.3 sg.dm |
| RC functions: | Elevator, rudder, ailerons, flaps, throttle => Butterfly (crow) for short landing approaches |
| Flight Time: | approx. 40 min. without thermal assistance |
| Channels equired: | 6-7 channel radio and receiver is required |